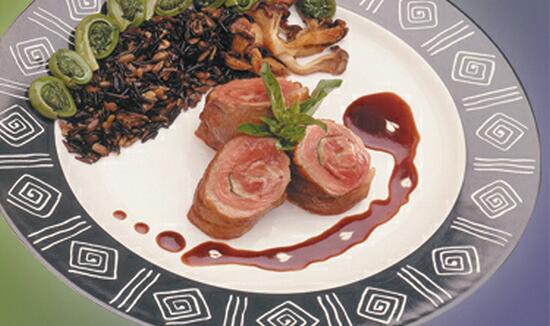 Breast of Duck with Sliced Smoked Duck
 
Magret Stuffed with Mont St-Benoit Cheese
Chef: Mario Laliberté
Ingredients:
2 duck breasts, boneless with skin
4 slices dried, smoked and sliced duck magret
4 slices Mont St-Benoit Abbey cheese
4 leaves fresh basil
1 tablespoon (15 ml) olive oil
Salt, ground green pepper
Sauce Ingredients:
1 teaspoon (5 ml) butter
1 French shallot, chopped
1/3 cup (85 ml) red wine
3 1/2 oz (100 ml) veal stock
1 teaspoon (5 ml) apple jelly
2 leaves fresh basil, chopped
1 teaspoon (5 ml) 35% cream
- Preheat oven to 275°F (140°C).
- Trim the breasts and score outer fat with a very sharp knife.
- Open the breasts and stuff with sliced smoked duck breast,
cheese and basil. Season with salt and pepper.
- Roll up the breasts, making sure the filling does not seep out,
and secure with toothpicks.
- Heat the oil in a skillet, and brown the breasts at high heat
for 2 to 3 minutes on each side. Place them, skin side down,
in an oven-ready pan, and bake for 10 to 12 minutes.
- Remove the duck breasts from the pan, and slice
into three sections. Coat with sauce and serve.
To Make Sauce:
- Melt the butter in a skillet, and cook the onion until translucent.
- Deglaze with wine, and simmer until volume is reduced by half.
- Add stock, and slowly bring to a boil.
- Add the apple jelly, stirring until well mixed. Simmer for 2 minutes.
- Remove from heat, add cream and basil. Serve.
Serves: 2
Preparation time: 20 minutes
Cooking time: 30 minutes