Braised Duck Legs with Pears Saute
 Chef: Thierry Daraize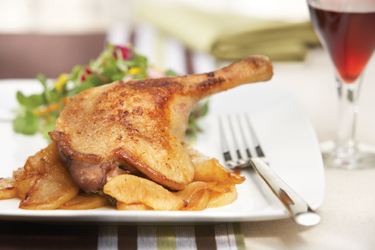 Cook Time: approx. 2 hours             Servings:  4 
Ingredients:
4 fresh Pekin Duck legs
4 ripe but firm pears
1 tablespoon (15 ml) fat (rendered duck fat)
1 cup (250 ml) poultry or vegetable stock
Fresh juice from one half lemon
1 tablespoon (15 ml) honey
1/2 teaspoon (2.5 ml) butter
1 teaspoon (5 ml) sugar
Salt and pepper
1 twig thyme or rosemary (optional)
1/2 teaspoon (2.5 ml) pink peppercorn (optional)
- Season the duck legs and sauté in the duck fat until nicely browned.
- Transfer in a roasting pan. Add the stock, the honey and lemon juice.
- Finish cooking, covered, at 160-180°C (325-350°F), until the meat
is tender (approx. 1 hour and 30 minutes).
- To check the state of cooking, prick the meat with a sharp blade.
The flesh must not resist the blade either in or out.
- As the duck legs are roasting, peel and coarsely chop fresh pears.
- Heat the butter and sugar in a skillet. Add the pear chunks
to the hot mixture and sauté until lightly browned.
You may want to sprinkle the dish with pink peppercorn or fresh herbs like rosemary or thyme.