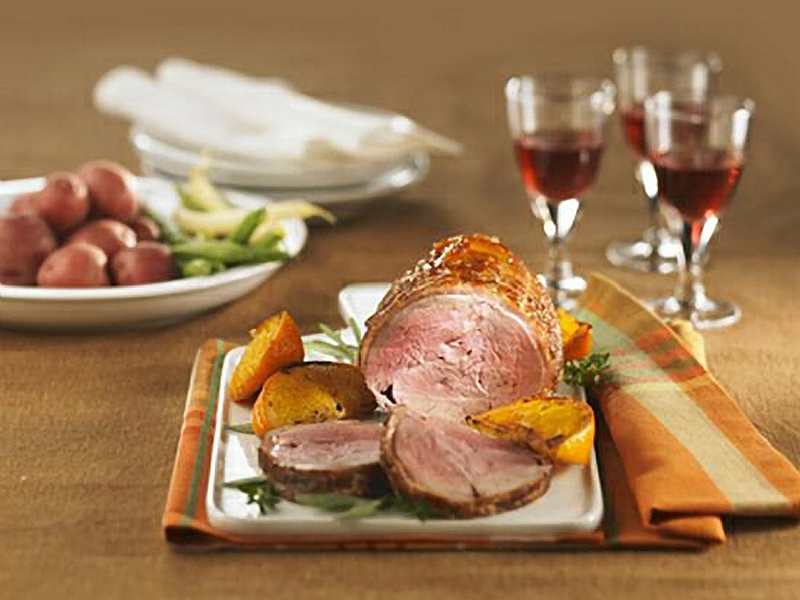 Duck Roast A l'orange
Ingredients:
1 Pekin Duck boneless duck roast
5 ml (1 tsp.) olive oil or duck fat
3 French shallots finely chopped
125 ml (1/2 cup) fresh orange juice
60 ml (1/4 cup) white wine or Port wine (facultative)
15 ml (1 tbsp.) balsamic vinegar
30 ml (2 tbsp.) orange marmalade
Salt and pepper
- Season the roast with salt and pepper.
- In a frying pan, sear the roast on all sides at high heat until golden brown.
- Place the roast on a 15 cm x 25 cm (6 po x 10 po) roasting pan which has been previously coated with duck fat or olive oil.
- Add the chopped shallots and bake in the oven uncovered for 15 minutes.
- In a bowl, mix orange juice, wine and balsamic vinegar.
- Pour the mixture over the duck roast, continue cooking uncovered for another 45 minutes.
- Remove the roast from oven, wrap in an aluminum foil and let rest for at least 5 minutes.
- Blend marmalade to cooking juices and let reduce until sauce thickens.
- Cut duck roast into slices, pour sauce over them and serve.