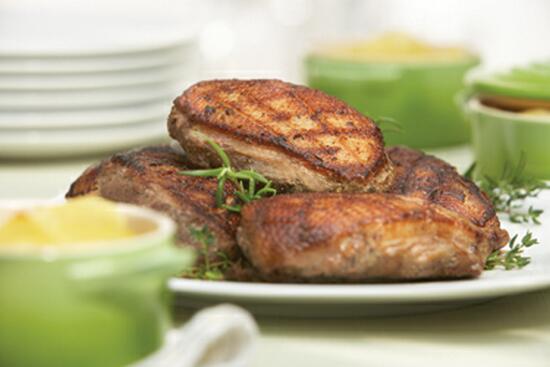 Seasoned Boneless Duck Breast with Scalloped
Potatoes
Chef: Thierry Daraize
Ingredients:
4 Dijon mustard & honey boneless Pekin Duck half breasts
(2 packages of 400 g each)
4 large potatoes (about 450 g in all)
250 ml poultry or duck stock (duck stock can be prepared
with a roasted duck carcass and aromatic garnish such as carrots,
onions, bay leaves, thyme, etc.)
2 twigs of fresh thyme or rosemary
2 tablespoons rendered duck fat or any other fat (to sauté the breasts)
Salt and pepper
- Peel and thinly slice the potatoes. Place the potatoes in a roasting pan, cover with poultry or duck stock, add fresh thyme and bake at 180°C (350°F) for 35 to 45 minutes.
- Check the potatoes with a fine blade. To enhance the potatoes flavor,
you may add a minced onion to the mixture. 10 minutes before
the potatoes are cooked, sauté the duck breasts in a skillet until nicely browned and complete baking in the oven, at 180°C (350°F) for 8 min.
This convivial dish has the advantage of being ready in a flash
and can easily withstand reheating a day later. You may bring the duck
and potato dish to the table or serve in individual portions.
Serves: 4
Cooking time for the meat: approx. 14 minutes